Standard Q COVID-19 Antigen Rapid Test (ART) Kit
Provisional Approval By HSA
Applicable For Use By Class B Providers Approved By MOH
Nasal Test Is Available For Better COVID-19 Testing Experience For Patients
For Medical Practitioner
Read on to learn why Standard Q COVID-19 Antigen Rapid Test (ART) Kits are perfect for your everyday testing needs!
Looking to become a Class B Provider?
See our total testing solution that can aid you in becoming a Class B Provider!

Standard Q COVID-19 Ag Test (nasal) has received Provisional Authorisation from the Health Science Authority in Singapore (HSA)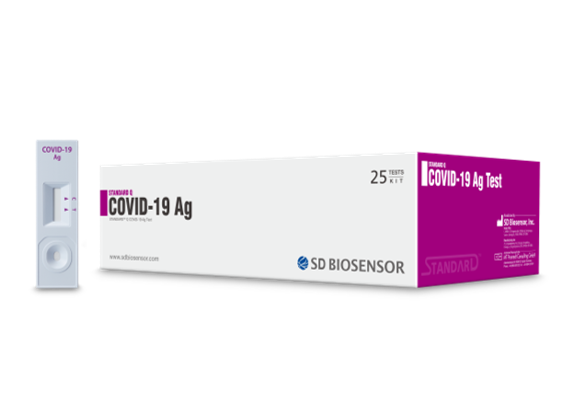 What Will Event/General Venue Entry Procedure Look Like?
Provisional Authorization for COVID-19 Tests
By Health Sinces Authority

Applicant

SPD Scientific Pte Ltd

Name of Test

Standard Q COVID-19 Ag Test

Intended Purpose (As Per Manufacturer's Information For Use)

Standard Q COVID-19 Ag Test is a rapid chromatographic immunoassay for the qualitative detection of specific antigens to SARS-CoV-2 present in human nasopharynx. This test is for administration by healthcare workers and labs only, as an aid to early diagnosis of SARS-Cov-2 infection in patient with clinical symptoms with SARS-CoV-2 infection. It provides only an initial screening test result. This product is strictly for medical professional use only and not intended for personal use. The administration of the test and the interpretation of the results should be done by a trained health professional. The result of this test should not be the sole basis for the diagnosis; confirmatory testing is required. A negative result may occur if the concentration of antigen in a specimen is below the detection limit of the test or if the specimen was collected or transported improperly, therefore a negative test result does not eliminate the possibility of SARS-CoV-2 infection and should be confirmed by viral culture or molecular assay or ELSA.

Date of Provisional Authorization

24 July 2020
Provisional Authorisation by the Health Science Authority (HSA) in Singapore

How To Use Antigen Rapid Test (ART) Kit
Test Time: Within 15 mins
Storage Temperature: 2-30°C /36-86°F
Pack size: 25 Tests / Kit
How Does The ART Kit Work (Nasal Test):


Request For Sample Antigen Rapid Test (ART) Kit
Fast stocks available now, get in touch with us for a sample ART test kit!*



Sample test kits are subjected to first come first serve basis.*

SPD Scientific Pte Ltd
192 Pandan Loop
#06-20, Pantech Business Hub
Singapore 128381
Main +65 6303 9877
Fax +65 6775 0995